Ralph Nader
The Ralph Nader and Family Cookbook
Classic Recipes from Lebanon and Beyond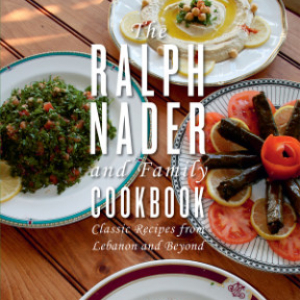 The Ralph Nader and Family Cookbook shares the cuisine of Nader's upbringing, presenting Lebanese dishes inspired by Rose's recipes that will be both known to many, including hummus and baba ghanoush, as well as others that may be lesser known, such as kibbe, the extremely versatile national dish of Lebanon, and sheikh al-mahshi--"the 'king' of stuffed foods."
Available Now
By Ralph Nader June 5, 2020 New York Governor Andrew Cuomo is basking in the popularity of his meticulous Covid-19…
May 1, 2020 The Honorable Andrew M. Cuomo 
Governor of New York State
 NYS State Capitol Building
 Albany, NY 12224…
By Ralph Nader May 28, 2020 If the planet Earth were animate, it would have shuddered at the news that…
Time, 7 February 2019
By even just testing the waters for an independent presidential run in 2020, billionaire former Starbucks CEO Howard Schultz has done us a favor
Arab America, 6 February 2019
Much of the ease of modern life and the degree of its conveniences are safe for us to use because of Ralph Nader.
Truthdig, 17 October 2018
There is no American who has fought with more tenacity, courage and integrity to expose the crimes of corporate power...
MSNBC, 15 October 2018
Ralph Nader tells Ari Melber it would be good for Mike Bloomberg to run against Trump as a Democrat in 2020.
MSNBC, 15 October 2018
Political activist Ralph Nader joins Radio legends Stretch Armstrong and Bobbito Garcia for a special "fallback" edition.
Marketplace, 28 September 2018
We sign on for a quick course in tort law, courtesy of Ralph Nader at his very own American Museum of Tort Law
CNBC, 27 August 2018
Ralph Nader joins the 'Squawk on the Street' team to discuss why he's concerned about driverless car legislation.
Longtime activist Nader links the rise of President Trump and decline of the Democratic Party to the latter's turn away from being champions of a "people's agenda" in this uneven recent history of and jeremiad against corporatist American politics.
NPR, 11 August 2018
Consumer advocate Ralph Nader is not impressed with how Apple is spending its excess billions.